Something Different for Joomla
News
A Drop Spindle Workshop
On Saturday July 25, 2015 Beginner Spinners can enjoy a day long retreat with Instructor Cheryl Roberts assisted by Catherine Stark. Learn the ancient art of drop spindling while the flock of Shetland Sheep graze nearby.
Read more...
Nature Photography
On Sunday, May 31 you can enjoy a unique opportunity to become a better photographer....
Read more...
Our first wreath making workshop was a glowing success!
Read more...
Koi Tango
24" X 40" oil on canvas, completed August 2014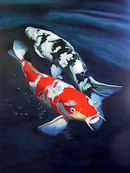 Read more...
The Eagle Has Landed!
Hemingway, a one year old male Bald Eagle, is being trained with falconry techniques to fly at Chassagne.

Read more...
Field Sports 2014
A day of enjoyment, education, and participation!
Read more...
Green Sea Turtle
The oil paint is still fresh on this little guy!

Read more...
Bees And Honey
Chassagne employs nearly half a million seasonal workers!
Read more...
Welcome to Chassagne, a special place established in celebration of the country lifestyle in which there are many pursuits that are well worth sharing.
Outdoor activities include carriage driving for fun and competition, falconry, keeping and breeding various animals (horses, Shetland sheep, raptors, rare birds) and wildlife rehabilitation. Indoor pursuits include watercolour and oil painting, wood carving and calligraphy.
The gates to Chassagne are open for occasional workshops, film work, pre-arranged group meetings, farm visits, and for the annual wool sale held each October in which our latest organic fleeces and yarns are made available.
Please visit often to enjoy ever-changing glimpses into the seasonal life of a lovely, unique working farm known as Chassagne.