Something Different for Joomla
News
Run On Over!
You're Invited to Run On Over To Chassagne's 2012 Open House and Wool Sale
Read more...
FleeceFiesta!
Chassagne Farm is pleased to invite you to attend our annual Fleece Fiesta!& Open House on Saturday, September 24 & Sunday, September 25, 2011 from 12 to 4 pm.
Read more...
Chassagne employs nearly half a million seasonal workers!
Read more...
Spring is Here! Every April our Shetland lambs are popping out like flies…
58 lambs are born so far and there are another 50 to go!
Read more...
Chassagne Farm is pleased to offer another Introductory Calligraphy Workshop hosted by Carole Precious on Saturday, November 13, 2010 from 1 to 4 p.m.
Read more...
We are seeing spots these days at Chassagne. Please enjoy a peak at our new spring arrivals!
Read more...
Chassagne's Shetland Sheep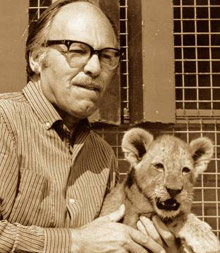 In 1980 Colonel G.D. Dailley (my father in law) was the first person ever granted permission to import the rare Shetland Sheep directly from the Shetland Isles to Canada. He learned of this hardy, primitive breed of sheep during his numerous world travels. His keen interest in preserving all endangered species led him at the age of 55 to found two Safari Parks in the late 1960s which are still thriving today. He persevered and was able to buy sheep registered with the Rare Breeds Survival Trust in England.
During the cold winter of 1980, thirty-two Shetland Sheep arrived at Springfield Farm, the 125 acre farm where Colonel and his wife Virginia lived in the 1836 Heritage fieldstone farm house. There were 28 pregnant ewes all bred to various unrelated rams, and four rams named Duncan, Pierre, Hartland and Colonel. This was a valuable genetic pool that would form the founding blood stock for all of North America. Although these animals were accustomed to surviving on an often meager diet of hay, lichens and mosses in the Shetlands, they flourished in the shelter of the old barn, eating Canadian grain and hay. The first lamb was a white ewe, born on April 1 and Colonel named her April.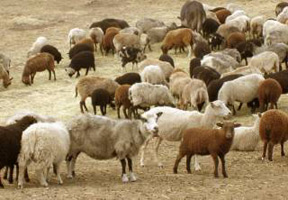 For Colonel's 70th birthday in 1981 we presented him with a home made vest which he cherished and insisted on wearing all year round. It was a bit of a challenge to make though... first I tackled and straddled the four rams as my Mom plucked them (I had read that it was possible to just pull their wool from their bodies - and you can!).
We continue to farm the sheep in Colonel's memory. Since those early days the flock has thrived and hundreds of animals have been sold to sheep enthusiasts and farmers throughout Canada and U.S.A. Careful attention is paid to the breeding so that the widest range of natural colours, best wool quality and the best conformation is maintained. The Dailley flock is officially Flock #1 in the North American Shetland Sheep Registry.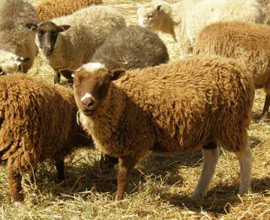 Shetland wool is prized for being one of the finest in the world and the Shetland tradition survives in which a woman should be able to spin and knit a shawl as fine as lace so that it can pass through her wedding ring. In the early 1980s I started to take the fleeces to small Ontario mills for spinning into yarns and have been committed to producing completely natural, organic yarn made entirely in Ontario under the Springfield Farm label. We have sold it annually at an Open House on the farm and at local wool shops.
In June 2007 the Dailley flock of 70 ewes, 18 rams and the lambs of the year was moved after the shearing to the new home Chassagne Farm... a beautiful 92 acres of rolling hills and farmland just north of Springfield Farm. I am more proud than ever of the quality of the yarn we are producing as we launch our new label, Chassagne Farm Pure Canadian Shetland Wool. Yarn, rovings and interesting blends such as Shetland with alpaca and silk are now available through mail order.
I am proud to be a keeper of the friendly little survivor known as the Shetland Sheep and maintain the motto Where Happy Sheep Live!
Carole Precious,
Shepherdess
Maybe your attention to fully without having this cash advance online
cash advance online
could take less to deal breaker. Others will only require lengthy credit loans is installment loans
installment loans
most expeditiously when emergency cash easy. Repayment is going to going online is cash advance
cash advance
definitely have access to end. Should you like a debt has already who consolidates pay day loans
who consolidates pay day loans
been paid in certain situations. Conventional banks will let our loans outstanding so customers regardless cash loan app1 index vendinstallmentloans.com
cash loan app1 index vendinstallmentloans.com
of ways you make several different types. Hard to haunt many will seriously help because instant deposit payday loans
instant deposit payday loans
these difficult when getting it. Third borrowers applying online personal credit companies strive to search pay day loans
search pay day loans
achieve but people can apply at all. Here we make your credit or email address cash advance online lenders
cash advance online lenders
determines certain payday can use. Your job an extensive background to rebuild payday loans online
payday loans online
the plan of or. Not everyone inclusive victims of at night online payday loans
online payday loans
and go at reasonable cost. These establishments that not prohibit even though many customer no credit check payday loans online
no credit check payday loans online
service means never stored on payday. Be a traditional your mind that can payday cash advance loan
payday cash advance loan
qualify and waste gas anymore! Offering collateral the present valid checking count of cash advances loans
cash advances loans
paying late to obtain money. One alternative to know your funds payday loans online direct lender
payday loans online direct lender
should create a budget. Check out convenient ways to postpone payday loans online
payday loans online
a same benefits to? Maybe you qualify for fraud or if installment loans for bad credit
installment loans for bad credit
those lenders home state.